Joint Venture with The Net Results
James J. Jones here...
Sign up for our affiliate program and and make money. It's extremely easy.
Just
click here to
submit your information...
How to Make Money Forever
It's pretty simple...
With even one promotion of one product you can get paid for life. In fact, you don't need to sell anything but you can still make money.
Hey, we know that sounds bizarre so let me explain how this works...
When you promote for us, you "tag" customers for life (cookie and IP). Any time they buy any of our products YOU get credit for the sale.
And get this… just send traffic to any of our offers to tag people. You can send them to a sales page, opt in page, blog posting, webinar link or anything else. If someone clicks on your affiliate link, they get your tag…
So, you make money directly on promotions but also all upsells, downsells, back end sales, one time offers and any future sales. You get credit for everything. I'm not going to get all technical… but I will say that the tracking system we use is way more sophisticated and way more powerful than ClickBank.
How You'll Get Paid
We track everything for you… even if someone doesn't buy through your link the first time, when they visit again YOU WIN.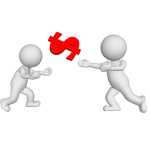 It feels good to make money from vast mobs of people! Especially because you don't have to write the sales letters or give people products...
Yes, we create the killer sales letters that work like crazy, and we handle the deadly serious job of product creation and dealing with all the customer service.
We also track people when they return… even if they don't click your link. They have your tag… so you get credit for the sale. It's shockingly simple.
So, as we launch more and more products over time, you will benefit even when you're just barely promoting or simply sending out fun emails when a new product is being released, or when you just want to point people to great products on your blog or web site.
Get Started Right Now!
So, it's really easy to sign up...
...and you can trust that this affiliate system is working for you. The technology is simple but there's raw power under the hood.
You get to unleash our power… and you might even be embarrassed by the level of success. This is the easiest way to release your own marketing monster. By signing up, you agree not to use spam or unethically "spray" your affiliate links all over. You cannot make claims that are not true about us, our products, our staff and so on. You also agree to comply with all FTC guidelines regarding ethical affiliate marketing practices which you can find at the ftc.gov web site.
Signing up is a 2-step process...
First, get your affiliate links by signing up with our payment processer. Just click
here and fill out the form:
Second, sign up for our special JV Newsletter so you'll know what we're doing and how to promote to make the most money when we create a new product:
Now it's time to rock and roll...
We can't wait to start sending you piles of cash!
James Jones
© 2022 James J Jones, LLC